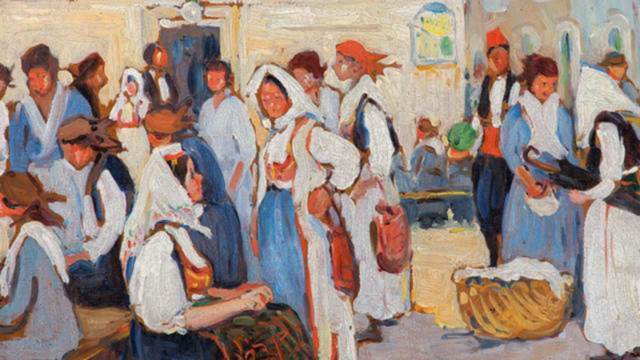 Overview
Cowan's Fall Fine & Decorative Art Auction will feature two sessions: the live Discovery auction on Friday, September 27th includes nearly 600 lots in the categories of fine art, furniture, rugs, metal and glassware, lamps, pottery, folk art and more. Many of the lots are a part of the collections that are offered in the September 28th Premier auction. In-person bidding is available for this auction.
The Premier auction on Saturday, September 28th features over 500 lots of fine art, furniture, fine pottery, rugs and other textiles, art glass, fine lighting and metal ware, and a selection of folk art. Some notable paintings include a landscape by George Inness (Lot 616), a pair of farm scenes by John Frederick Herring, Sr. (Lots 657 & 658), and a fine Indiana landscape by William McKendree Snyder (Lot 620).
The decorative arts portions include a selection of copper from the collection of Darryl Lippman of Sylvania, Ohio, a selection of fine English furniture and equestrian paintings from Donald A. Rich Interiors and Antiques, New Canaan, Connecticut, and match safes from the noted Match Safe Collection of David and Holiday Winfield. Other notable lots include an Andrew Clemens sand bottle (Lot 917), a Lalique Poissons vase (Lot 786), and two pieces of American Federal furniture attributed to Thomas Seymour (Lots 742 & 775).
Auction
Live Discovery Auction (Lots 1 - 599)
Friday, September 27, 2019 - 10:00 am

Premier Auction (Lots 601 - 1103)
Saturday, September 28 - 10:00 am
Preview
Thursday, September 26, 2019 - 12:00 - 5:00 pm
Friday, September 27, 2019 - 8:00 - 10:00 am
Saturday, September 28, 2019 - 8:00 - 10:00 am
All times ET
Contact
Leah Vogelpohl
decarts@cowans.com
513-871-1670 x222